Please be aware: Truck Simulators provide a very realistic experience. However, using a Truck Simulator is NOT considered actual driving experience.
The Beginners Guide To American Truck Simulator
What You Need To Get Started
PC capable of Running American Truck Simulator

Create a Steam Account and Install Steam*
Purchase Digital or Physical copy of American Truck Simulator
PS4 or XB1 Controller (Optional but recommended)
*Steam is the game distributor ATS uses.
PC Requirements
Minimum PC Requirements for American Truck Simulator:
Operating System: Windows 7 64-bit
Processor: Dual core CPU 2.4 GHz
Memory: 4 GB RAM
Graphics: GeForce GTS 450-class (Intel HD 4000)
Storage: 4 GB available space
Recommended PC Requirements for American Truck Simulator (ATS):
Operating System: Windows 7/8.1/10 64-bit
Processor: Quad core CPU 3.0 GHz
Memory: 6 GB RAM
Graphics: GeForce GTX 760-class (2 GB)
Storage: 4 GB available space
ATS requires a somewhat decent PC. Lower end PC's can still run ATS, but you will have to lower the graphics settings until it is playable.
Getting Started
Once you find out if your PC can can even run American Truck Simulator, you can purchase it now.
I recommend creating a Steam account and purchasing ATS through Steam. You can also purchase a Physical copy of American Truck Simulator. You will still need to create a Steam account to access the game and new maps and trucks. After creating an account, you need to install Steam to your PC. Steam is what ATS is launched from.
Once you have purchased ATS and installed Steam on your PC, open Steam then find and click 'Library'.

On the left side you should see American Truck Simulator, if you have already purchased it. If you need to purchase ATS, click Store and search for American Truck Simulator. You can also see the Downloadable Content (DLCs), such as States, trucks and paint jobs.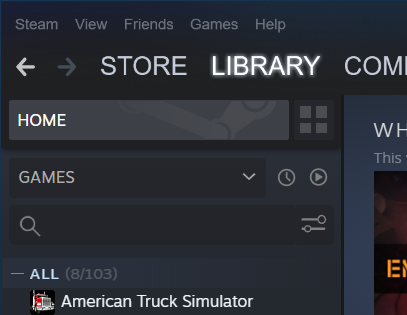 I highly recommend using a PS4 controller to drive. Otherwise, you will be using your keyboard to drive. I started playing with just a keyboard before I finally figured out how to get my PS4 controller to work on Steam. Once I figured it out, it was a whole different experience to the game. More on that later.
Buy a PS4 Controller on Amazon
Create an American Truck Simulator Profile and Change Your Settings
Now, it is going to get a little bit complicated. You need to open ATS and figure out all of your settings before driving.

I am going to cover everything you need to know.
Open American Truck Simulator by clicking the green Play button in Steam.
After ATS has loaded up, create a new profile.
If you purchased any other DLCs, open the DLC browser and make sure they are all activated.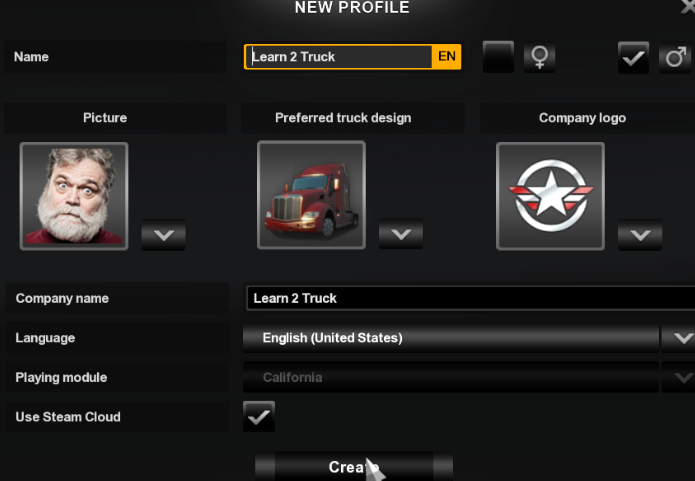 When it asks you to do the Setup Wizard, click the 'Skip wizard' button on the bottom right. We will get to that very soon.

Choose what city and state you want to start in. You can start anywhere you like.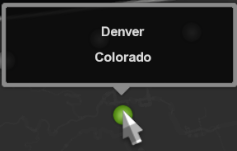 After this, you will be asked to skip the training or not. Choose one and then hit 'Esc' on your keyboard to pause the game. When you hit pause, hit the 'Options' tab on the menu at the bottom.

You will then see the Options Menu. I am going to go through each of these and post screenshots of all my settings.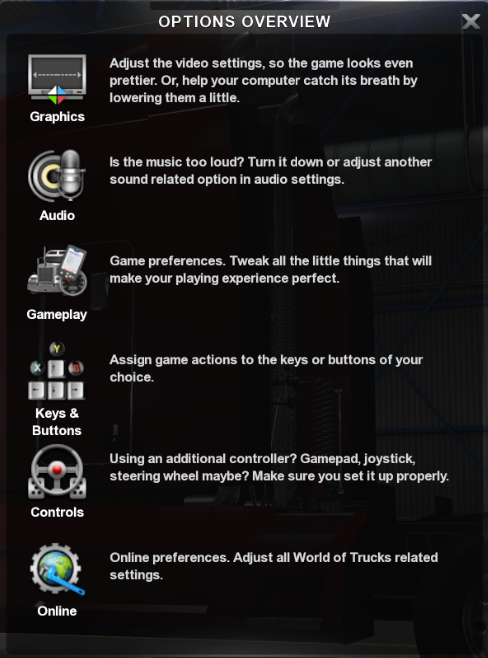 Graphics Settings
Depending on your PC, your graphic settings may be completely different from mine.
The images below show the best settings that balance out performance and quality.
Be sure to keep High dynamic range (HDR) and Depth of field (DOF) turned ON.
If your game is still lagging when turning all the graphic settings down, your PC may not be able to run ATS. I recommend researching your exact PC and searching why it is lagging. (EX: 'Acer Nitro 5 lagging while gaming'). My PC has a mode high performance mode I must turn on with my laptop plugged in or my CPU will overheat and it will lag. It could be something simple like that for your PC as well.
Audio Settings
You can decide what you want to turn up or down.
Turn that annoying music off by turning off 'UI music volume'.
Gameplay Settings
You can change the Gameplay settings to make the game feel more realistic.
My recommended settings are in the images below.
You can obviously change whatever you want, but this is what I recommend playing on.
ATS Gameplay Settings Tips:
Turn on Traffic Offense if you like.
Transmission Type may depend on what you play on (Keyboard, Controller, Steering Wheel). I like using Sequential because I can manually change the gears using a controller. You could change it to Real Automatic as well which is exactly what it sounds like.
If you turn OFF Automatic engine and Electricity start, you will have to hit the start button twice. In newer trucks, you have to turn the key on for about 10 seconds and let the lights go off on the dash. This is the computer doing tests before startup. Once the check engine lights are off, you can start the truck. Turning this option off works like that. It is basically turning the ignition on and when you hit the start button again, it will crank the engine. Don't panic because your truck won't start in ATS, you just have to hit the engine start button again.
Best American Truck Simulator Keyboard Binds for PS4 Controller
These are my settings I use and highly recommend for ATS. I pair these key binds to buttons on my PS4 Controller through Steam.
Before moving on to the Controls tab, we need to get your PS4 Controller set up on Steam to work on ATS.
(Steam is compatible with the new PS5 controller and all Xbox controllers as well.)
Setting up Controller on Steam for American Truck Simulator
Exit out of ATS or hit Shift + Tab and then hit the Windows key to get to your desktop.
Open Steam and click the 'Big Picture Mode' button at the top right. This will open a new window for BPM.

Click the Gear icon on the top right.

Click Controller Settings.

Once you get here, Turn PlayStation or Xbox Configuration Support ON depending on your controller. Make sure your controller is plugged into your computer using a USB cable. After it is plugged in, your controller will pop up at the bottom stating it was detected.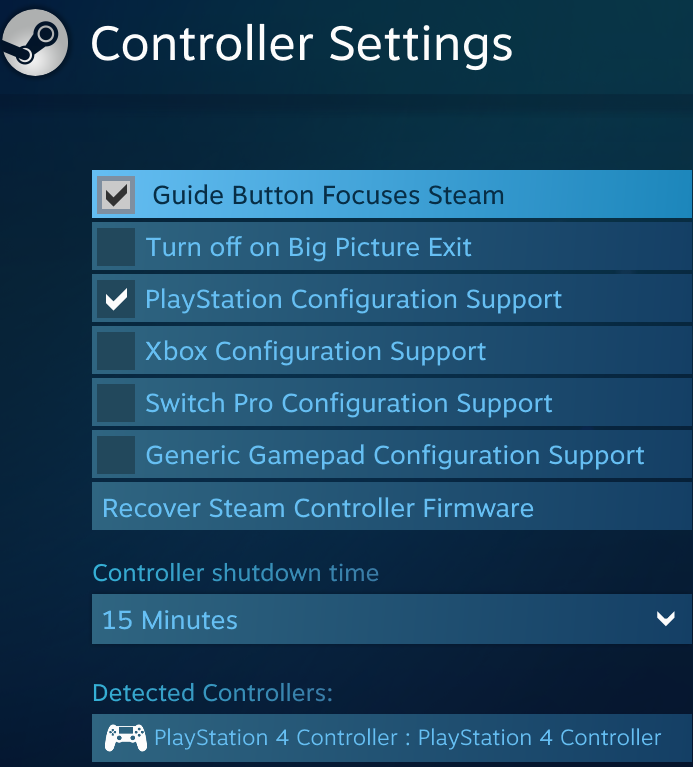 Almost done!
Now that your controller is 100% connected to Steam, you can exit Big Picture Mode by clicking the 'Power' button on the top and clicking 'Exit Big Picture'.
We need to apply my controller configuration to your controller. I have tried many different configurations for my controller and I have found this is the best one there is.
Click the link below to automatically add my controller configuration to your controller:
steam://controllerconfig/270880/1527361755
When it asks, click 'Open Steam Client Bootstrapper'.
This will automatically open Steam, open the Controller Configuration page, and it will preview my controller configuration on your controller. All you have to do is click 'Apply Configuration' at the bottom.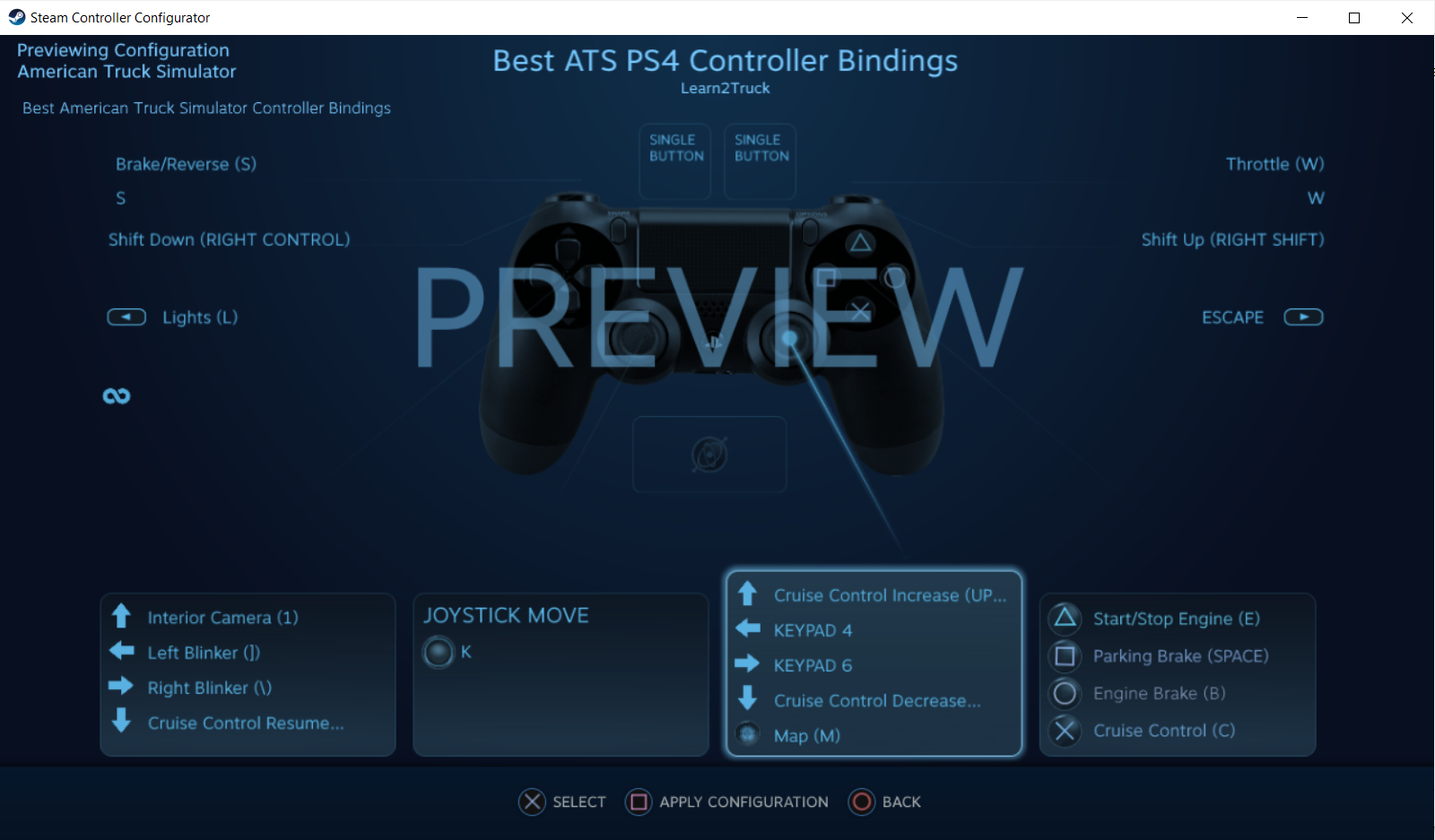 To get back to the Controller Configuration page, go to your Steam Library by clicking 'Library' at the top. Click American Truck Simulator on the left and then clicking the 3 dots on the right, to find 'Controller Configuration'.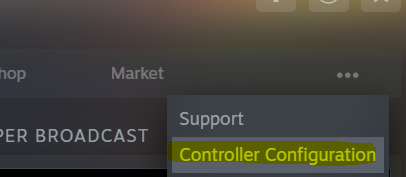 You will see what buttons are for what key bind.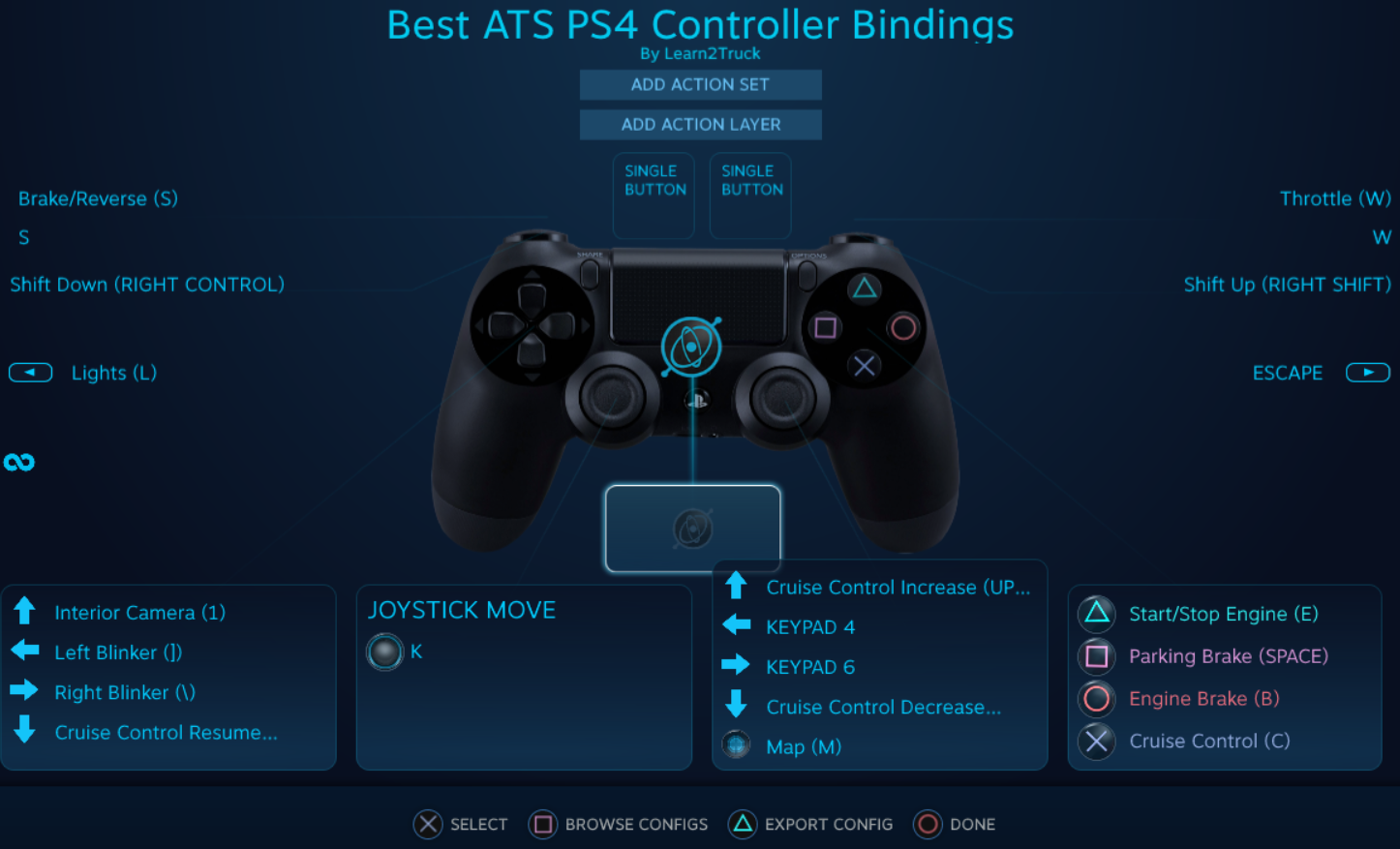 Be sure you changed all your key binds in the ATS in-game options to what I showed above. Not doing so will make your controller buttons and binds not work properly. You can always change your binds as well to anything you like. I highly recommend using exactly what I use.
You must know these Binds to get started.
Throttle – R2
Brake – L2
Shift Up – R1
Shift Down – L1
Start Truck – Triangle
Parking Brakes – Square
Engine Brake – Circle
Interior Look Right – Right Joystick right
Interior Look Left – Right Joystick left
Left Joystick controls steering wheel left and right
Escape (Menu) – Start
Map – Right Joystick Click
There is only one last step before you can finally start driving on American Truck Simulator.
Controls Settings
Open American Truck Simulator, click your profile, click 'Options' and then click 'Controls'. Change your controls to what you see in the image below. Make sure the top one says keyboard + (Your Controller). Make sure Controller subtype is on Gamepad, joystick. If you want to drive an automatic truck, instead of "Sequential", change it to "Real Automatic".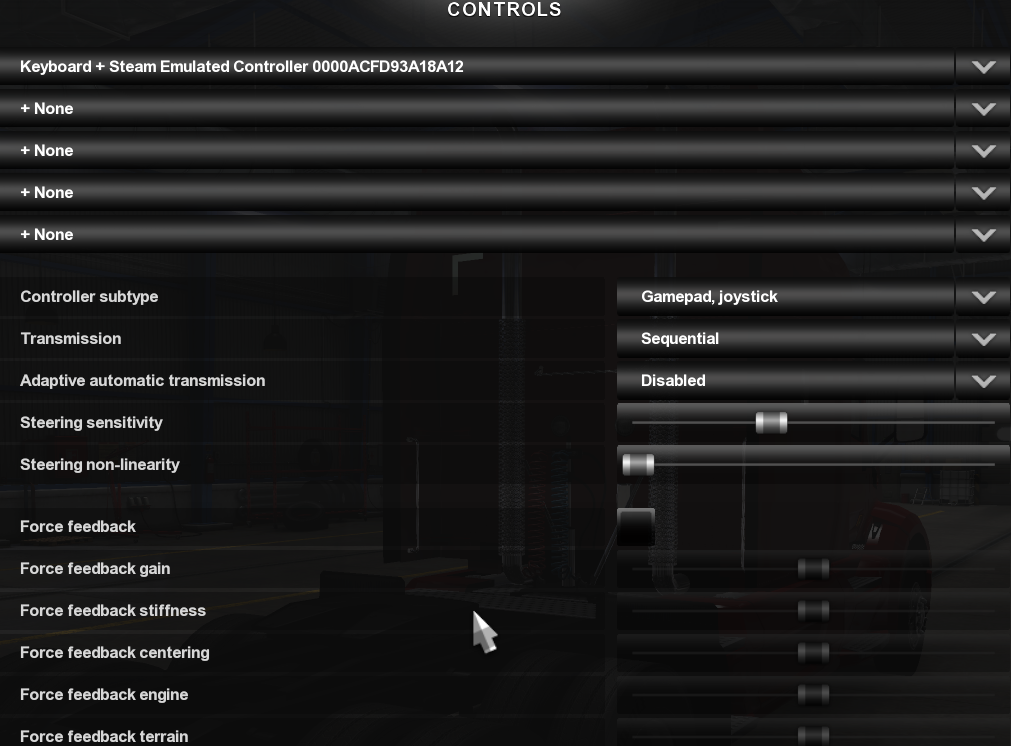 For the Steering axis, click where it says 'Joy X Axis'. The cursor should disappear.
Now, use the left joystick on your controller and go left to right. A yellow bar should pop up showing the sensitivity when using the joystick.
For the Acceleration Axis, set 'Acceleration axis mode' to Centered or Normal, click 'Joy RT' and then push R2 on your controller. It should work the same way. You may have to adjust the 'Acceleration axis deadzone'. You want it to start moving as soon as you start pushing R2. It should be set with how hard you push R2 down. So, if you barely push R2 down, your truck rpm should slightly rise in game.
Brake Axis works the same exact way as acceleration axis. Set it, click Joy LT, and adjust if needed.
After you have change and figure out all of your settings, you can drive now.
Click the 'Drive' button at the main menu and try to drive the truck. You will start out doing a training job then you will be able to find other jobs in the Freight Market. You have to work your way up to be able to purchase and drive your own truck and trailer. You could download a mod in the Workshop that helps you get money and xp faster, but I do not recommend doing that. Just work your way up.
That is how to get American Truck Simulator set up with a PS4 controller. It is really not that hard to get set up and it is a very helpful Simulator.
---
Just imagine how realistic driving a truck is with a steering wheel, pedals and a shifter that has a range and a splitter. They actually make everything and it works with American Truck Simulator. I personally do not have that kind of setup yet, but I will get one in the near future and I am pretty certain on what setup I am going to get.
I plan on getting the G29 Racing Wheel with the Pedals and Shifter, a shifter knob and a stand for everything.
---
For now, here are some tips to get you started driving on American Truck Simulator:
If you are in Sequential mode, try to up-shift around 1350 – 1500 RPM, depending on the transmission.
Downshift when you get to about 1000 – 1100 RPM.
In my opinion, the Allison TC10 10 speed transmission works best with Sequential because there is no major delay when shifting. With any other transmission, I would rather have it set to automatic. Most new trucks have 12 speed automatics.
Don't leave the Jake brake on at all times. Turn it on when you need it.
Have a key bind for Zoom Interior Camera. It zooms your view in when pressed so you can read gauges on dash easier.
If you have any problems with the game, do a Google search for exactly what you need help with.
Press f4 to adjust your mirrors and seat position. (See Right)I like my mirrors set like in the image below. I like my seat set where I can see my full mirror, hood mirrors and gauges. I can look to the right for my passenger side mirror.
Press f2 to activate screen mirrors. You can have 1, both or none. I personally like none showing unless I am backing I will usually turn on my passenger side one.
Press f5 & f6 to use the route advisor. This is your GPS, shows you how many miles are left, how much time until you have to park, how much weight you are hauling, and more. I drive with this option off. I use my trucks GPS. You can change the truck GPS by setting a key bind for "Dashboard Map Mode". If you use my settings, that button is 'Alt'.
Press I to change the dash menu items.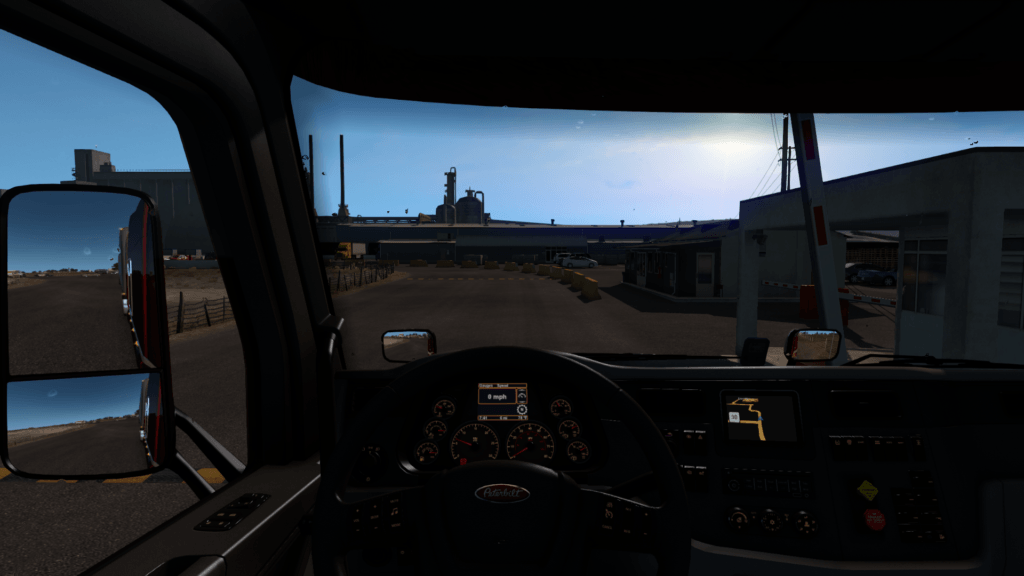 Using the image below, let me point out the dash gauges.
Starting from the Top Left going down, middle, then Top Right going down:
Coolant Temperature
Diesel Exhaust Fluid (DEF) Level
Fuel Level
Tachometer (RPMs)
Speedometer
Oil Pressure Gauge (PSI)
Primary Air Tank Pressure
Secondary Air Tank Pressure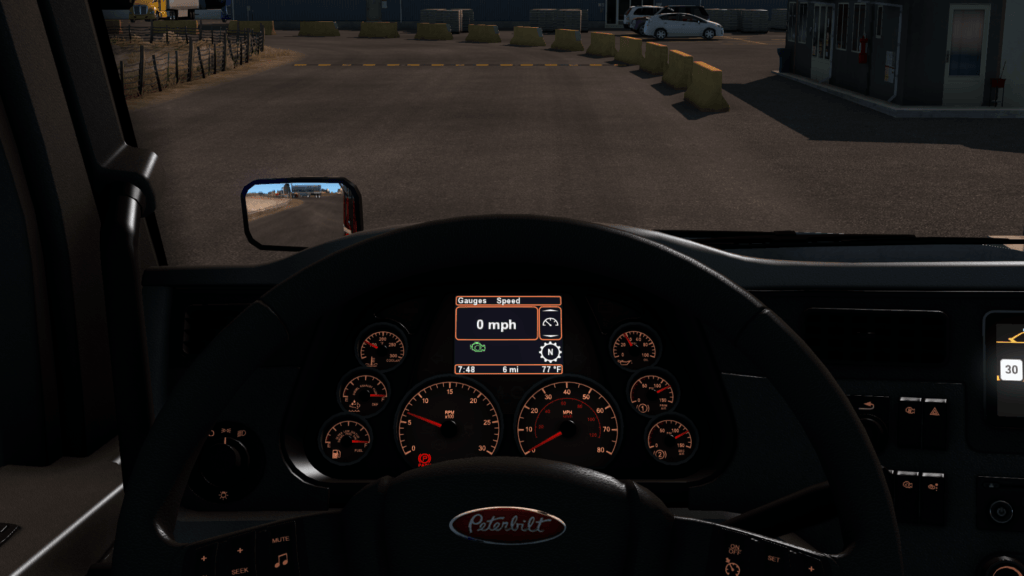 You can see what gear you are in, inside that white gear on the screen. The green symbol means the engine brake is on. There are 7 different brands of trucks on ATS and each one is different. The image above is the good ole Peterbilt 579.
If you are using my key binds and/or my controller configuration with a PS4 controller, you can use the Touchpad as well.
Clicking the Touchpad on the left side will turn your windshield wipers on.
Clicking the Touchpad on the right side acts as the Enter button. Hold it down to fuel instead of holding the Enter key.
Tapping the Touchpad on the left side is the engine brake decrease.
Tapping the Touchpad on the right side is the engine brake increase. There are 3 levels to the engine brake. 1, 2 and 3. Level 1 is the weakest and Level 3 is the strongest.
Conclusion
Quick Summary of everything you learned/did:
If your PC is capable of running ATS and you purchased ATS.
Created a Steam account.
Opened ATS and changed all your settings, matching my settings.
Changed your controller configuration to my configuration.
Learned the basics of driving on ATS with a controller.
I have explained everything you will need to know to get started on American Truck Simulator. Be sure to bookmark this page if you need to and come back to it. You can contact me as well if you need any help, but I strongly suggest just searching on Google. It will be a LOT faster than waiting on me to reply. Be sure to check out my other guides and stay tuned for the backing guides.